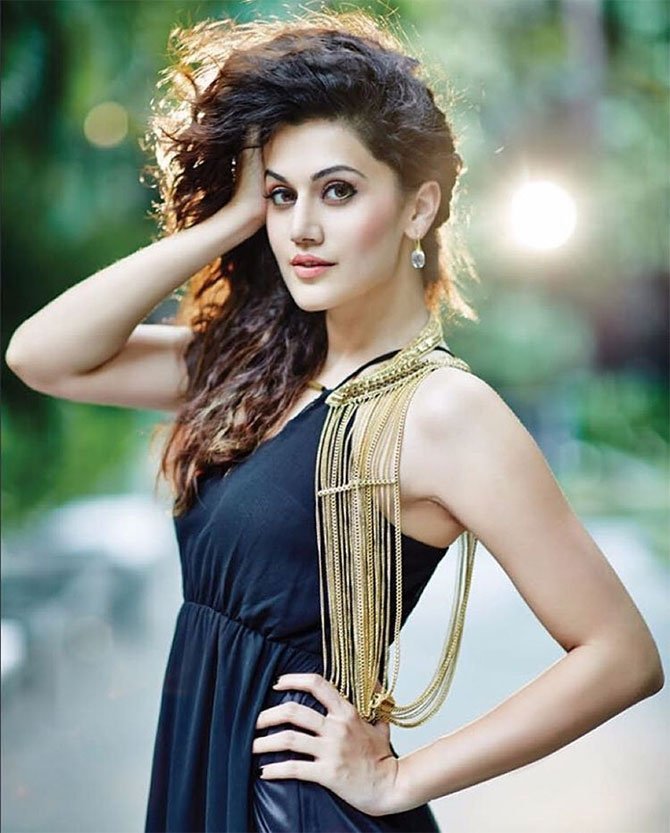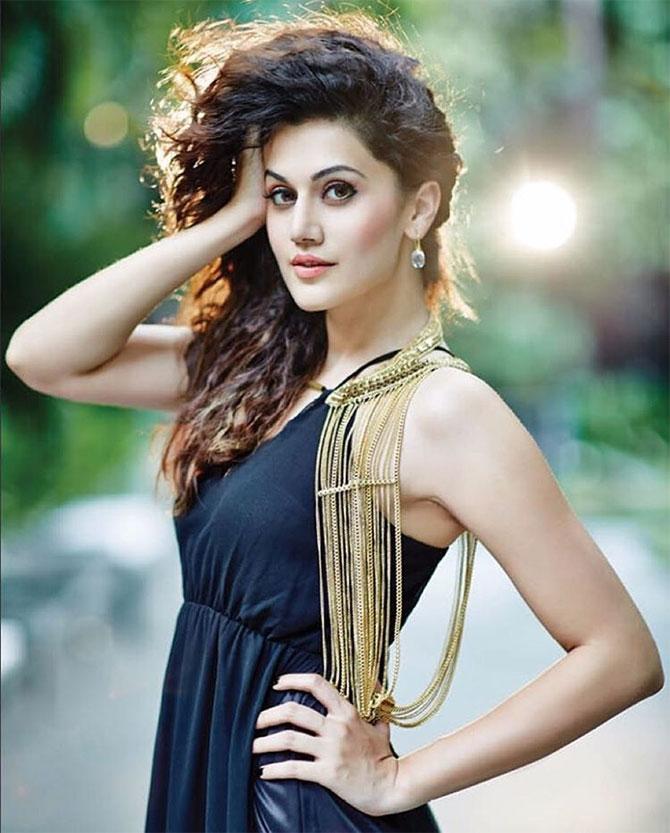 Taapsee Pannu is just two films old in Bollywood but in her third release, PINK, she will be seen sharing screen space with none other than Amitabh Bachchan.
Interestingly, this 29-year-old never dreamt of becoming an actor and working with the Big B.
"Mr Bachchan is big for me, definitely, but it's not like it has always been a dream of mine," she confesses.
It wasn't easy doing a film like PINK, and it did affect Taapsee.
Says the Delhi girl, "When I used to go home, I used to feel like crying on the smallest of things."
In her childhood days, being a tomboy, she would run away from the colour pink but now, that same colour will be with Taapsee for the rest of her life.
"This colour will change a lot of identities after September 16," she says, referring to the film's release date.
In this exclusive interview with Jahnavi Patel/Rediff.com, Taapsee gets candid about her experience of shooting with the Big B, how emotionally taxing the role was for her and her take on feminism.
What was your reaction when you learnt that you would be working in a film with Amitabh Bachchan, to be presented by Shoojit Sircar?
I have done a film where Shoojit sir has been a producer; it's yet to release. But (starring in a film) with Mr Bachchan gives you a sense of accomplishment.
I was excited, thrilled and had butterflies in my stomach!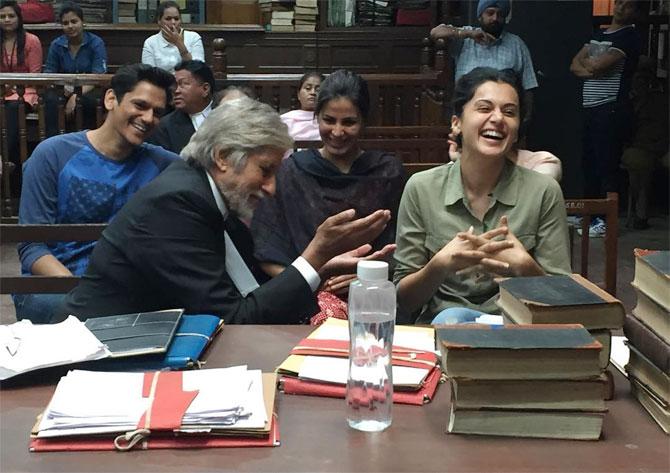 IMAGE: Amitabh Bachchan and Taapsee Pannu on the set of Pink. Photograph: Taapsee Pannu/Instagram
Amitabh Bachchan is known for his wit and sense of humour. Did you witness that on the sets?
Oh yes, all the time!
Especially in the court sequences, the entire cast and crew would be sitting together and then out of nowhere, he would spontaneously share funny one-liners or funny experiences.
Did your role leave a lasting effect on you?
Yes. We don't really come across such roles and when we do, it stays on.
I am not much of a trained actor. I have to get my brain and heart to go deep inside the situation and then probably I can start acting. It takes me a little while to get out of it.
It's wasn't difficult to play a Delhi girl, since I am one. But to play a molested victim and then to stand there in court — especially since I have never entered a court — was difficult.
I had gone through a lot of videos, which were given to me by the direction department. I haven't experienced such an incident in my life so I had to go through those videos to know how a girl would react and how she would answer questions pertaining to it.
To get out of this, I had to go on a one week long vacation because took a huge toll on my mind.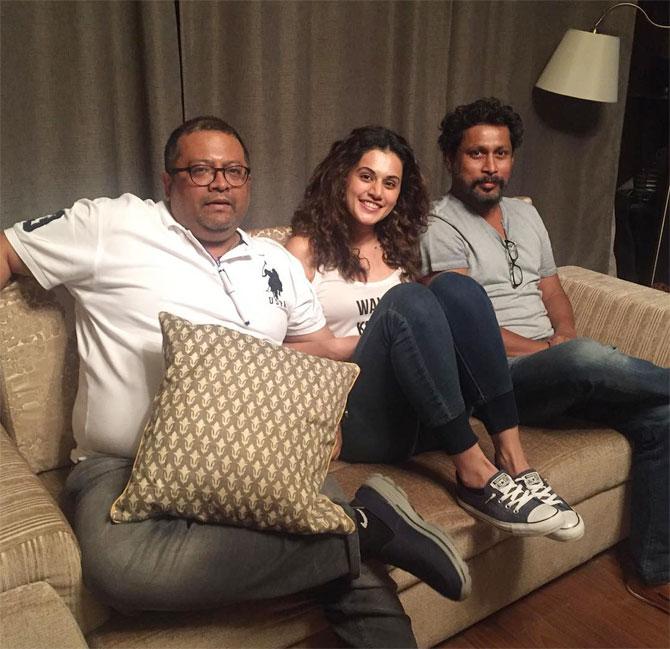 IMAGE: Aniruddha Roy Chowdhury, Taapsee Pannu and Shoojit Sircar. Photograph: Taapsee Pannu/Instagram
Shoojit Sircar believes casting is the most important thing for his film and he was all praises for the three girls. Does that give a sense of satisfaction?
It's good that he praises us outside because in front of us, he keeps saying, 'You're bad actors!'
We know he loves us for whatever we've done in the film. He did convey what he genuinely felt after watching the film and while we were shooting.
I think they chose me because I have to play a Delhi girl. If I had auditioned, I wouldn't have been in the film. I am very bad in auditions.
They asked me to be myself and that's why they took me.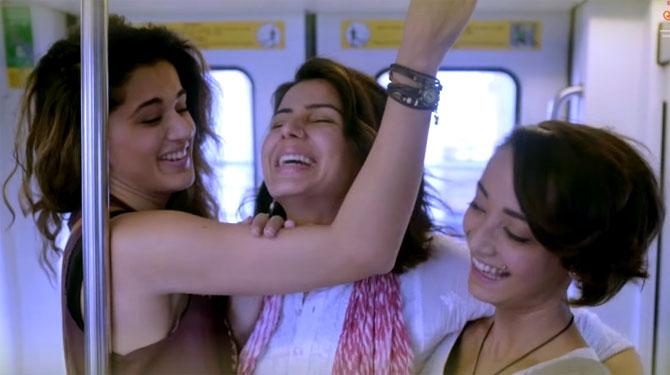 IMAGE: Taapsee Pannu, Kirti Kulhari and Andrea Tariang in the song Jeene De Mujhe from PINK
There were reports that you girls broke down on the set on the last day…
Not the last day, every single day almost.
Was it that emotionally taxing?
A lot. I was almost contemplating taking a psychiatrist session if I didn't get out of it in a week or 10 days.
It was extremely draining.
Taapsee Pannu in a candid chat with co-stars Andrea Tariang and Kirti Kulhari. Video: Afsar Dayatar
Delhi is known for its notorious image. Over the years, do you think it has gotten worse?
It hasn't gotten worse but probably it's in the limelight now.
People have started noticing it now, it's is being covered more, people have started coming out in open now and people have started misusing it as well.
That's why you can see it more now.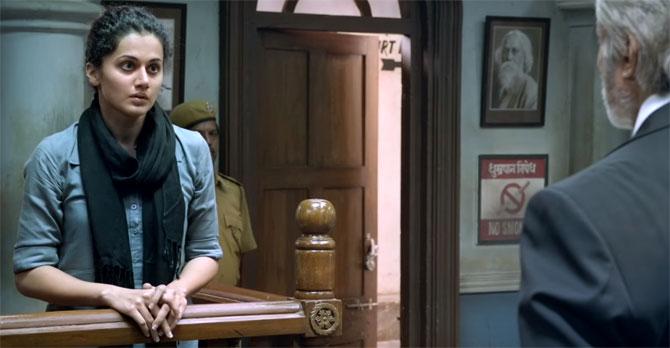 IMAGE: Taapsee Pannu and Amitabh Bachchan in Pink

The trailer begins with Amitabh Bachchan asking you 'Are you a virgin, Miss Arora?' At any point, were you uncomfortable? What was going on in your mind?
What did you feel after seeing me in the trailer? After I answered that question?
That was exactly going on in my mind.
I have this habit of not rehearsing a lot; I don't go on practicing my dialogues, pauses and actions. But Bachchan sir does that. He belongs to that school of acting where he likes to rehearse a lot.
When I go on the set, I want to leave it on the ambience and my co-actor to provoke those kinds of reactions from me. I don't want (to give) mechanical reactions, they should be spontaneous.
I reacted how I would have if I was in that position in front of my family, friends and random people.
My character is getting questioned. The language used is very rough but the whole idea is to show what actually happens in reality.
We haven't taken any cinematic liberty by showing those dialogues. They are actually said like that in a real court.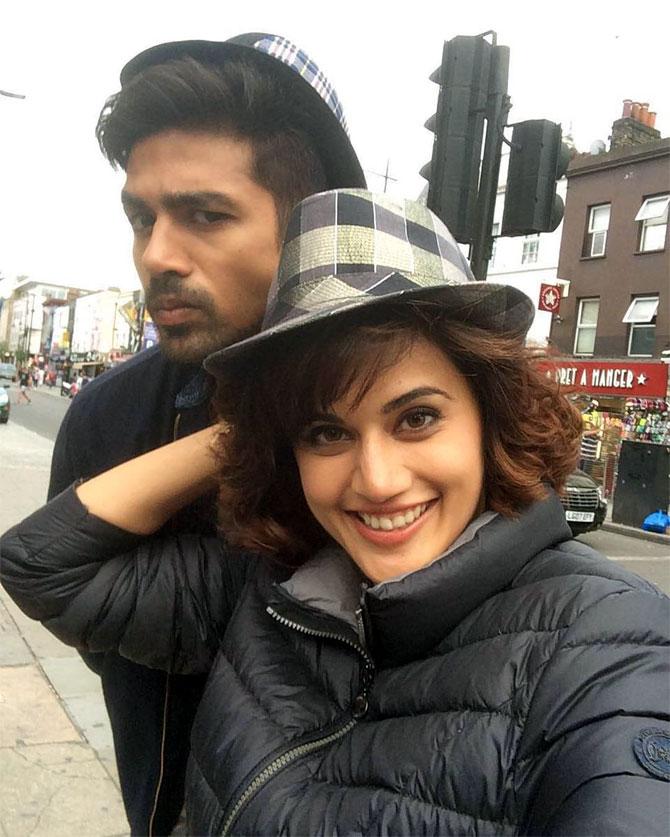 IMAGE: Saqib Saleem and Taapsee Pannu. Photograph: Taapsee Pannu/Instagram
Which films are you working on now?
Naam Shabana, which is a part of the Baby franchise. You will see me doing a lot of action in that.
In Ghazi, I am playing a Bangladeshi refugee.
I have a film with Saqib Saleem called Makhna, which is typical love story.
Tadka is a slice of life film and I play a Goan Catholic in that.
Are you doing the biopic on Irom Sharmila?
I have been asked but we are still trying to figure out when will I go and listen to the script.
Once PINK releases, I will hear it and then see. It's too big a responsibility. I have to analyse a lot of other things before I take that up. I don't want to face the backlash it will get if I do that role.
There are a lot of things that I have to consider so let's see.
Do you think meatier roles are being offered to women today?
This is the best time to be an actor, even for women.
Men had lot of choices before as well but now, I would like to use the term actor for both male and female.
I think it's an extremely good time now.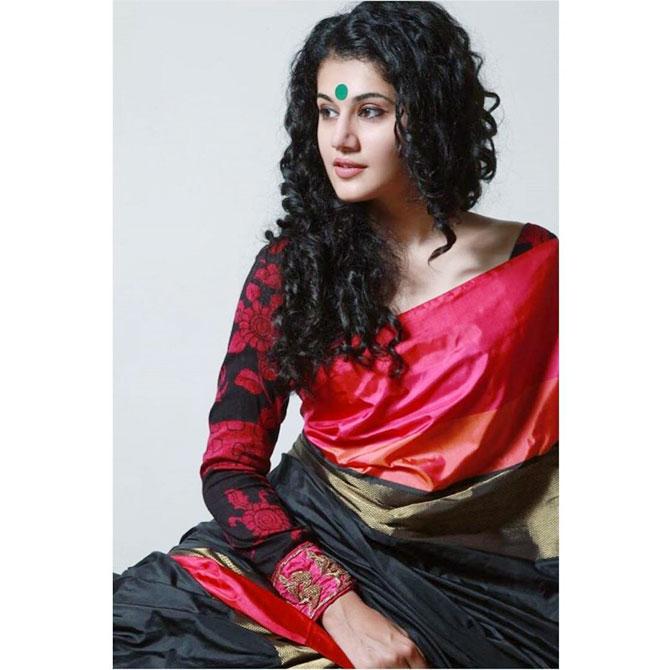 Photograph: Taapsee Pannu/Instagram
Is there any incident from the past that you'd want to revisit and react in a different manner now?
Yes. During my school days in Delhi, there have been situations where I have been in crowded places and people try to touch you wrongly. At that time, you're so scared you don't even want to look back at who that person is.
I remember an instance during a Gurpurab (Sikh festival), I was walking on the road and there was a big crowd. I had my hands behind my back as I had that intuition that something would happen. Someone tried to touch me and I just held that person's hand and twisted it without even looking behind.
I didn't have the guts to see who that person was and just kept walking.
Today, I think I should have gone back and twisted it so hard that I should have broken his hand so he would never touch a women like that again.
What's your take on feminism?
I am a self-proclaimed feminist in a lot of ways but I am not going to say that I will take a pink flag and run to India Gate with that.
I will stand for equality and that doesn't mean giving me reservation. I would like to fight for it, just give me a fair chance.
That's what being a feminist is.
[source;rediff.com]