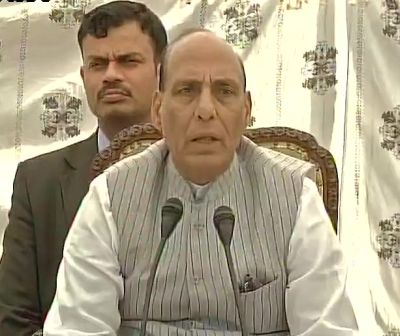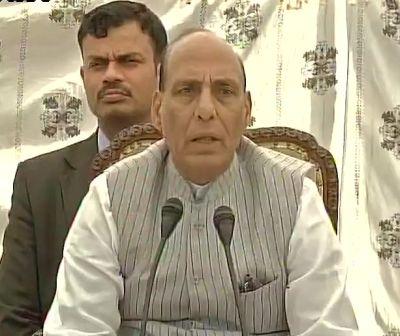 A day after Hurriyat leaders snubbed members of the all-party delegation who reached out to them, Home Minister Rajnath Singh on Monday said the behaviour of the separatists shows they do not believe in 'Kashmiriyat', 'Insaniyat' and 'Jamooriyat'.
Addressing a press conference on the second day of the delegation's visit, Singh said he was confident that peace will be restored in the state and the members had interacted with 30 delegations representing various sections of the society.
"As far as talks are concerned, our doors to everyone who wants peace and normalcy. Chief Minister Mehbooba Mufti also wrote letters.
"I want to clarify that some members of the delegation had gone to meet Hurriyat leaders yesterday. Neither had we said yes nor no. Whatever happened you know about it. I do not wish to go into the details. But whatever information those friends gave us upon their return, it can be said it was not 'Kashmiriyat'. It cannot be called as Insaniyat (humanity). When someone goes for talks and they reject it, it is not jamooriyat (democracy) as well. We are ready to talk to everyone who wants peace and normalcy," he said.
Singh said Jammu and Kashmir "was, is and will always be integral part of India".
The minister said during his last visit concerns were raised about the use of pellet guns for which non-lethalr eplacement shells PAVA have been recommended.
"The shells will not take lives. About 1000 shells have arrived here," he said.
The minister, who is leading an all-party delegation on a two-day visit to assuage the volatile situation in the Valley, said the entire country and Parliament are pained by the situation in Kashmir.
On a question whether India plans to talk to Pakistan on Kashmir, Singh said, "First let us talk to Indians."
When asked whether the Centre is willing to go the extra mile on the demands of autonomy raised by PDP and National Conference from time to time, he said, "We are not concerned with whatever one had said in the past. We have taken everyone's view and cooperation to improve the situation in Kashmir in the delegation-level talks."
To a query on track-2 channel talks, Singh said he did not wish to enter in the debate of "track-one, track-two or track-three."
The minister said to address concerns of Kashmiri youths living in different parts of the country the ministry has appointed Dr Sanjay Rai as nodal officer who can be approached on phone number 011-23092923, 23092885.
Singh said Parliament, which is supreme 'panchayat' of the country, is very serious about the situation in Kashmir and hence decided to send a delegation of its members for talks.
He said 26 Members of Parliament belonging to 20 parties have come here for talks as part of the delegation.
More than 30 delegations comprising 300 members from political parties, civil society, University teachers, fruit growers, students and intellectuals have presented their view before the delegation, he said.
"Everyone wants that the situation must improve. The delegation spoke to these people, the governor and the chief minister of state and also officials of the state government. I am fully confident that the situation will improve which people also want," he said.
He said the Centre is giving full support to the state government which is also trying to bring improvement in the situation.
[source;rediff.com]