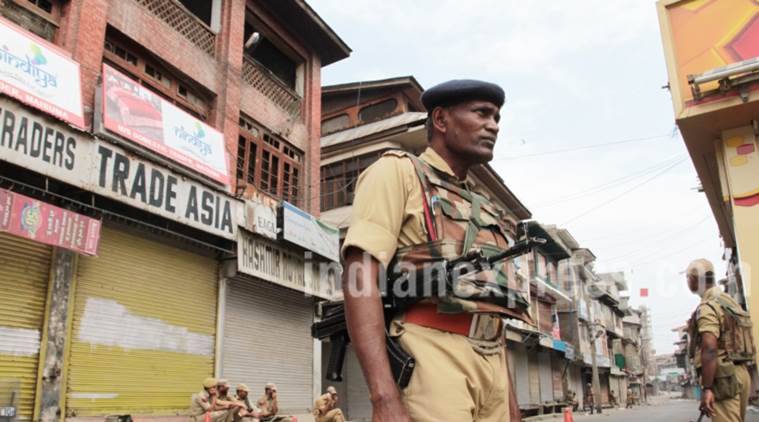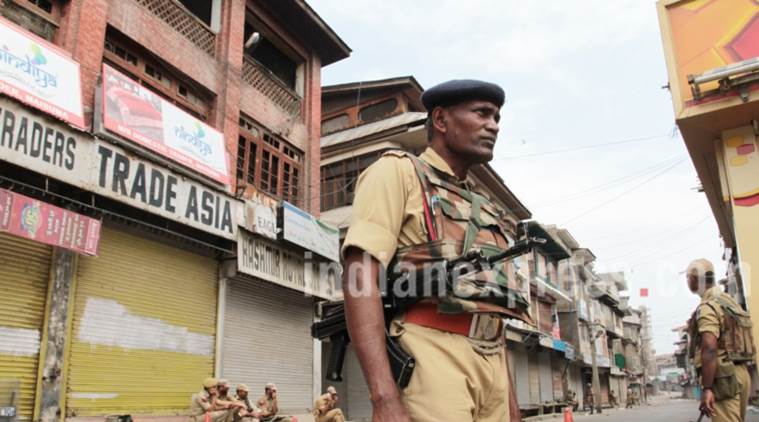 Stepping up efforts to restore normalcy in the Valley after two days of protests over the killing of Hizbul Mujahideen commander Burhan Wani led to the death of at least 21 people in clashes with security forces, Union Home Minister Rajnath SinghMonday spoke to Congress president Sonia Gandhi and former J&K Chief Minister Omar Abdullah about the situation in the state.
National Security Advisor Ajit Doval returned home Monday, cutting short his visit to Africa where he was with Prime Minister Narendra Modi and expressed confidence that solutions would be found to the situation in the Valley. "If there are problems, there are solutions. We are quite confident and competent of finding solutions," Doval told PTI when he was asked to comment on the situation inKashmir.
The NSA was present at a meeting chaired by the Home Minister which was attended, among others, by Finance Minister Arun Jaitley, Defence Minister Manohar Parrikar, MoS in the PMO Jitendra Singh, and the Director of the Intelligence Bureau.
Rajnath Singh also held a meeting earlier in the day with senior officials of the Home Ministry and security agencies and directed them to take measures to ensure swift return of normalcy. An additional 800 CRPF personnel were rushed to Kashmir as reinforcements for the 1,200 CRPF personnel sent earlier to assist the state administration.
After Singh spoke to her, Sonia Gandhi put out out a statement saying "terrorism must be dealt with firmly" and there can be no compromise on matters relating to national security. She said the political process must not get lost since it had made many gains, especially over the last two decades. She, however, voiced concern over loss of life.
"There can be no compromise on matters relating to national security. Terrorism must be dealt with firmly. Even so, the death of so many of our citizens and attack on security forces is very painful. The political process has made many gains in J&K particularly over the last two decades and these must not get lost," Gandhi said.
She appealed to people of the Valley to "allow political parties to find durable and enduring ways of fulfilling their aspirations meaningfully in a peaceful and democratic manner" while expressing "deep anguish" over the loss of lives in "senseless violence".
Ghulam Nabi azad, Leader of Opposition in Rajya Sabha, too expressed "deep concern on the deteriorating law and order situation in the Valley in which irreparable collateral damage has taken place." The need of the hour, he said, is to ensure that law and order is restored at the earliest without further loss of life.
National Conference leader Omar Abdullah, in a series of tweets, said, "HM @rajnathsingh ji spoke to me earlier today. I told him that until security forces exercise maximum restraint & stop killing protestors… this vicious cycle of violence would not stop. Only after the lethal use of force ends can we begin to pull the valley back from the abyss."
"For our part @JNKC_ will play what ever role is required to help normalise the situation. But onus lies on state & central governments," he said.
In a tweet addressed to Chief Minister Mehbooba Mufti Sunday, Abdullah said his party was "always ready to contribute towards maintaining peace but you must take the lead & show the way".
The government responded to appeals for peace made by Opposition leaders. Addressing a press conference, Information and Broadcasting Minister M Venkaiah Naidu said, "I heartily welcome the statement given by senior Congress leader and Leader of Opposition in Rajya Sabha Ghulam Nabi Azad and Salman Khurshid, the former External Affairs Minister, on Burhan Wani being a terrorist. It is an indication of the corrective stand on terrorism and its consequences. I appeal to all media organisations across the country to exercise restraint while reporting on terrorism. One should not create sympathy for terrorists."
"A terrorist is an anti-national. He is affecting the interest of the country. No Indian can have any sympathy whatsoever for such anti-national people. And this man is responsible for killing of innocent people. He does not deserve any sympathy at all. We have also seen another friend from Congress party, Abhishek Singhvi, who said, 'I will not mourn the death of anyone who has explicitly waged a war against my nation'," Naidu said.
"People who are giving sermons should understand that the Indian army, our forces are working overtime to protect the unity and integrity of the country. They are there to safeguard the interest of the people. There are safeguards in India for violation of human rights. There is a government in Kashmir that is working together with the central government."
"I have also taken up the issue of stranded Amarnath yatris with the state government. The yatra is temporarily suspended but there are some people from Andhra Pradesh and Gujarat who are stranded there. All steps are being taken to see that they reach safer places," Naidu said.
[source;indianexpress]