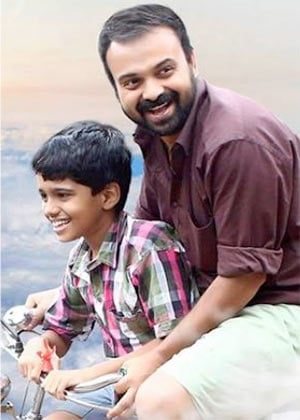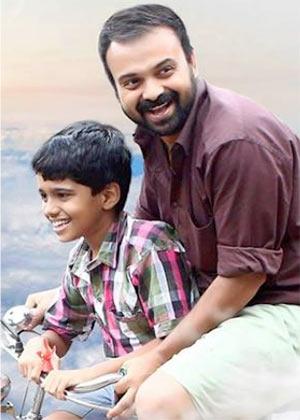 Paulo Coelho's quote from his inspirational novelThe Alchemist about the universe conspiring to help you if you desire to have something desperately may hold the world record for the most used quote by all and sundry to motivate and inspire others.
Now director Sidhartha Siva weaves a tale around it showing us how this quote may influence someone as naive as a school kid.
Ayyappa aka Appu (Master Rudraksh) wishes to fly in an airplane but it hasn't been fulfilled despite coming very close to getting on to a plane a couple of times.
When his father, who works in the Gulf, sends tickets, he is unable to go as he gets chickenpox.
The next time he gets an opportunity, news of his father's death in a road accident reaches home just a day before the flight.
Kochavva (Kunchacko Boban), on the other hand, is a villager, who likes to teach kids cycling and swimming in his free time. He uses The Alchemist quote to motivate the children.
Appu is scared of the water but when he hears Kochavva arguing that swimming is popular internationally and that there are clubs in the cities that sponsor promising swimmers to take part in international competitions, he realises swimming can get him a ticket to fly. Slowly, he begins to learn the sport in all earnestness.
Kochavva is unaware of the reason behind Appu's transformation. When he does learn about it, he feels very guilty and tries to dissuade the boy by saying that he may have said things casually and that such clubs do not exist in reality.
This has a devastating effect on the child, and it makes Kochavva to want to help him. From here on we see Kochavva going in search for such a club and finally finding one in Bengaluru.
Then starts the journey of the two to realise the boy's dream.
It's amazing to see Kunchacko Boban play a second fiddle to a school boy in his 75th film. It is his home production under the legendary banner, Udaya pictures.
Master Rudraksh, who happens to be the son of actor Sudheesh, is a natural in looking depressed.
Sidhartha Siva had earlier made a similar award winning film called 101 Chodyangal (2013), which was more realistic and sad.
This is truly a feel-good venture that will leave a smile on your face for a long time after you leave the theatre.
[source;rediff.com]