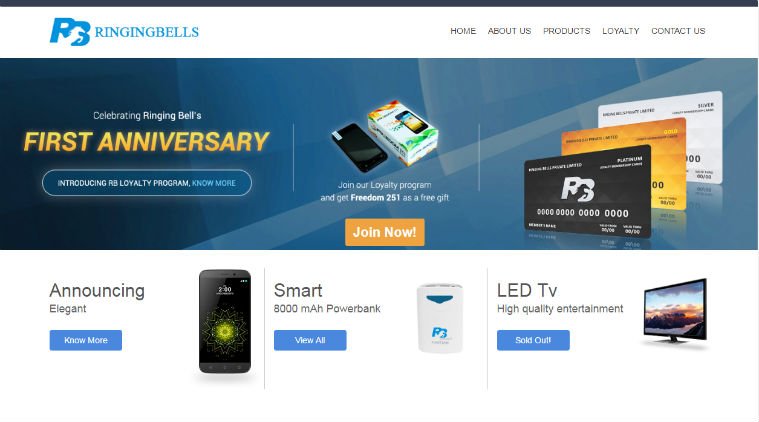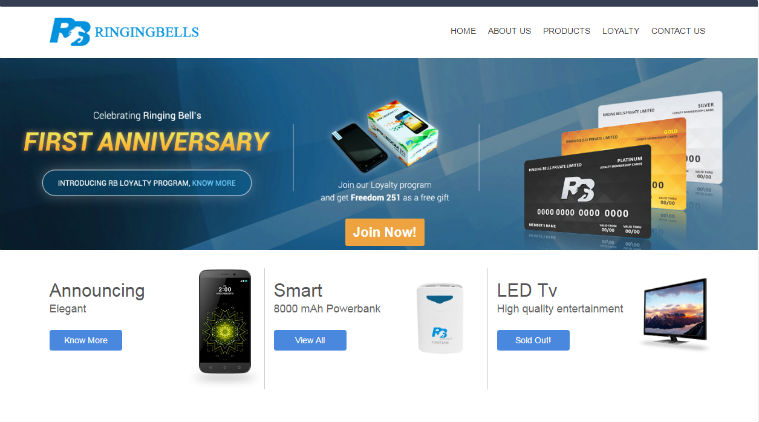 Ringing Bells has marked its first anniversary by announcing a Loyalty Programme with Silver, Gold and Platinum cards. The interesting bit, however, is that Ringing Bells is giving away units of the Freedom 251 free with these loyalty cards. But the value of the cheapest loyalty card, the Rs 500 silver one, is double the cost of the Freedom 251 smartphone priced at Rs 251. In fact, the company says it will give away 2 units of Freedom 251 with Platinum membership. Also, the move to give away free units when they have over 7.5 crore customers waiting for the phone despite placing orders might not go down well.
Ringing Bells loyalty cards start at Rs 500 for silver, Rs 1,000 for gold and Rs 2,000 for platinum. Customers can use these cards to get a discounts of 5 per cent, 10 per cent and 15 per cent respectively on the purchase of products from the company. The cards will be valid for a year. The booking for the loyalty cards will start on September 1 noon. While customers can start using cards to buy Ringing Bells products right away, the Freedom 251 will only be delivered by the end December 2016.
Ringing Bells claims to have delivered 70,000 units of Freedom 251 to complete its target of 2 lakh in the first phase. "We have completed one year in the market and have so far delivered almost 70,000 units of Freedom 251 smartphone," a Ringing Bells spokesperson said. The Ringing Bells website now lists a range of products including its 31.5-inch HD LED TV at Rs 9,900, new smartphones, power banks and feature phones. The site claims its HD LED TV units have all been sold out. The company has, however, not shared sales figures for its TV yet.
Ringing Bells was established in 2015. The company unveiled its first product – Freedom 251 – in February 2016. Freedom 251 is the world's cheapest smartphone at Rs 251 ($4). The smartphone created quite a lot of buzz in the smartphone market with its pricing. Freedom 251 sounds too good to be true and most likely it is that way. While Ringing Bells claims to have delivered 70,000 units of the smartphone in India, we've not come across a single person coming out to announce he's actually got Freedom 251.
[source;indianexpress]