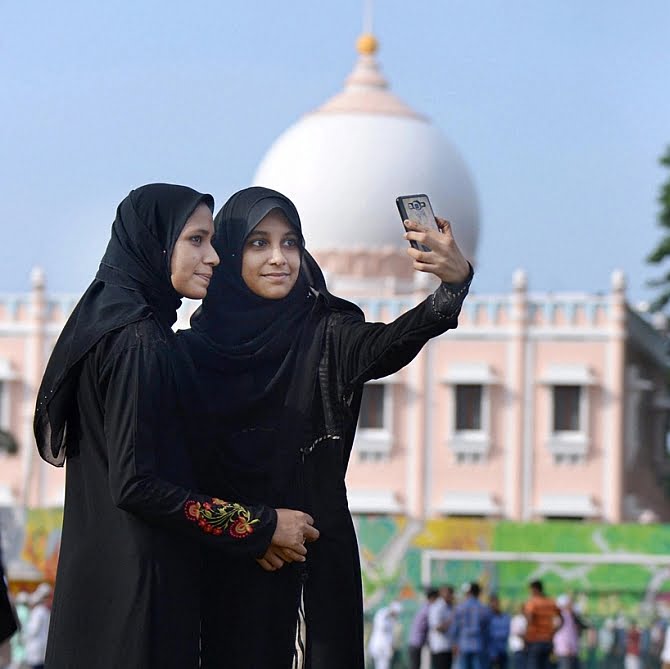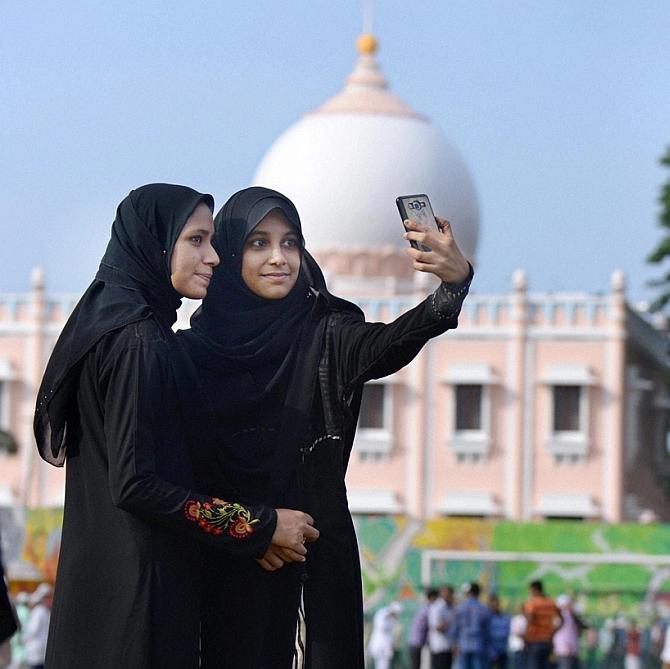 'For a country to be secular, it is not enough that its Constitution and government are secular. It is equally necessary that its society and individual citizens are secular,' Dr Madhav Godbole writes in his just released book, Secularism — India at a crossroads.
Dr Godbole served as a bureaucrat for 33 years before resigning as Union home secretary after the Babri Masjid demolition in 1992. The author of over 15 books, a lecture he was to deliver on secularism at the Maharashtra secretariat in Mumbai was mysteriously cancelled.
In a two-part interview with Rediff.com's Archana Masih at his home in Pune, Dr Godbole says there should be an agreed definition of secularism and minorities, the need for a commission on secularism and wonders whether India is a secular country today.
What are your concerns about India in its 70th year?
We need to take a stock of where we are; some aspects of the Constitution need to be re-examined seriously.
Federalism being in danger is as disturbing as religion being in danger.
The GST bill has taken 13 years. It shows the manner in which we function in the country.
In the 21st century, the world is going in a different direction and we are going at snail's pace. Are we going to function in the same manner or are we going to take stock of how we are going to function in the coming years?
Let us take some examples: When the Lokpal Bill was being discussed, there was a proposal to have such a model law in the states — Lokayuktas. It was vehemently opposed by states likes Tamil Nadu and West Bengal, saying that it goes beyond federalism.
All the law was proposing was to lay down principles on the basis of which states should formulate their own laws.
This recommendation for Lokayuktas has been there for 20, 25 years and we have still not been able to act on it — and that was proposal was given up.
In another case — a continental sized country like India does require a federal police. This is the only Western style democracy of this size which has no federal police. This proposal has been opposed on the ground of federalism.
A central law for the Central Bureau of Investigation has been opposed on the ground of federalism. A simple thing like having one police for the railways has also been objected to.
When the Constitution was framed, the were no concerns of major crimes with international ramifications. That is why the founding fathers put the subject of police and public order in the states list. Isn't it time to take a fresh look at it?
But we are so engrossed in petty politics that these larger issues relevant to the country in the coming years are not being looked at.
Are our political parties unable to rise above politics to address the larger issues?
It is interesting that at one time or the other in the last 60, 65 years, almost all political parties have now been in power. They have seen it from inside and outside. In spite of that, it has made no difference to their thinking.
I would have expected half a dozen people from various political parties to at least raise these issues and to press for them politically, but they haven't.
Take the case of the Delhi anti-Sikh riots, Bombay riots, or Gujarat riots — there is a proposal that the Centre must have power in extreme cases to deploy central forces in the state and be responsible for the management of the state till it comes back to normal. What is wrong with this?
What is important is how we are going to address issues that are going to be relevant for the next 15, 25 years. This bothers me and there is no thought and preparedness in the political system to look at these issues.
Apart from federalism, what are the other issues that concern you?
Secularism. We are really at a crossroads.
At no time since Independence has this issue of whether we are a secular country or whether we are a Hindu Rashtra come up in this manner on the streets and in public discourse as it has now.
This is the most important issue which is going to decide whether we remain together as one country or not.
According to me, this is the one single proposition which holds the country together.
Twenty percent of the country consists of minorities. 14.5 percent are Muslims. In the next 15, 20 years the minorities will be 30 to 35 percent.
The country can't hold together until you stick to the principle of secularism. It is not a choice before the country.
The composition of the country makes it incumbent on you to adhere and make a success, but there are very serious problems.
Therefore in my book I have proposed major Constitutional amendments. Are we prepared to take a look at the concept of secularism itself?
You have also mentioned there is no definition of secularism.
When the Constitution was made there was no agreement among the members of the Constituent Assembly for calling it secular.
Some thought it would be interpreted as secularism in the Western concept and would mean the total negation of religion which will never be accepted in India.
Secondly, when Pakistan has declared itself a Muslim State, do we have to declare ourselves as a secular State was the other question.
If at all, we should declare ourselves a Hindu State was the demand by some at that time. Finally, the idea of declaring it a secular State was given up.
It was introduced by Indira Gandhi during the Emergency. There was no discussion on this because almost the Opposition leaders were in jail and the press was under censorship.
Therefore, you can't really say that it has become part of the Constitution in the real sense because there was no debate and acceptance.
Then an effort was made to introduce a Constitution amendment bill after the Babri Masjid was demolished for the separation of religion from politics. It fell through because the Congress did not bother to consult all political parties.
What is the definition of 'secular'?
When you say the country should be secular, people should know what is secularism. There should be an agreed definition of secularism.
The whole concept of secularism is based on minorities and there is no definition of minorities in the Constitution.
What the Constitution did was take whatever description of minorities was adopted by the Britishers and the same categories were continued without any discussion.
The time has come to examine who all are minorities.
For example, Muslims are already 14.5 percent, we are the second largest Muslim country. According to estimates, by 2050, India will be the largest Muslim country in the world.
This kind of a huge population, is it a minority?
Unfortunately, people don't read these days, including in the much publicised social media. Example, in the debates on the adoption bill during the Janata period, one of the prominent Muslim members said, 'We are a minority, but we are not a such a small minority that you can do whatever you want with it, we have a leverage and we will exercise that leverage.'
For example, when the education bill in Kerala went before the Supreme Court in the '60s, the Supreme Court in that context defined minorities as a community less than 50 percent.
If that definition is carried till the logical conclusion, does it mean that till Muslims exceed more than 50 percent of the Indian population they continue to be minorities?
In Jammu and Kashmir, Hindus in Jammu call themselves minorities but they are in a majority. Hindus in Punjab call themselves minorities because in certain parts they are in a minority.
These issues are important in the Indian context and cannot be pushed under the carpet any longer.
It is a difficult problem therefore no political party wants to talk about it.
In spite of our differences we Indians have a secular ethos. Are we as a people secular?
No, I don't agree. It is a myth that has been created.
What has kept us together if we are not secular?
It is true that several religions were absorbed, but it doesn't mean that because it happened in the past, it is happening today.
The question is whether we are a secular country today. We are not. The religious divides are becoming wider every day.
Did this division begin with the demolition of the Babri Masjid? When did our secular ethos start wavering?
The demolition happened because of the manner in which we worked our secularism.
Secularism was one idea which was meant to integrate this country. It is a tragedy that this one idea has torn us apart.
Hindus believe there is a pampering of the minorities and therefore don't want secularism.
Muslims believe they have got nothing out of secularism and don't want it and want a separate identity.
When Sikh militancy was acute the same thing was happening and the same is happening today in J&K.
Therefore, I propose that there should be a commission on secularism to whom any member of the public can raise any matter which can have an adverse implication on secularism.
There should be a televised public hearing and it will give a speaking order which will be binding on the government.
If anybody is unhappy s/he can file a petition in the Supreme Court and that decision will be final.
Then this will be an enforceable right, today it is an entrenched right
So is it a myth that we are secular?
Look around and ask yourself if we are a secular country. There are extreme communal pronouncements by Muslims and by Hindus.
Every few years there are major communal riots in the country.
I feel ordinary Indians, at the people to people level, are secular.
The amity at the people to people level gets submerged when you bring in politics. Therefore you need to separate religion from politics.
This is something our founding fathers were acutely aware of and in 1947 a resolution was moved that there should be a complete separation of religion from politics.
That resolution was passed almost unanimously apart from one Muslim member who opposed it and we are in 2016 and it has still not been implemented.
There were occasions when the Congress was in power during Nehru, Indira, and Rajiv's governments when there was a 2/3rd majority, so the Congress cannot proclaim itself as a secular party if it has not taken action on this basic issue that governs secularism.
Now it is going to be increasingly difficult with a rightist party at the Centre, but even now an effort must be made to build up a societal agreement.
Addressing a question that you raised, a common man has no problem with dealing with a Muslims, Christian or Sikh, but why is it that politically there is a problem?
That is something which can be dealt with only if we remove religion from politics.
[source;rediff.com]