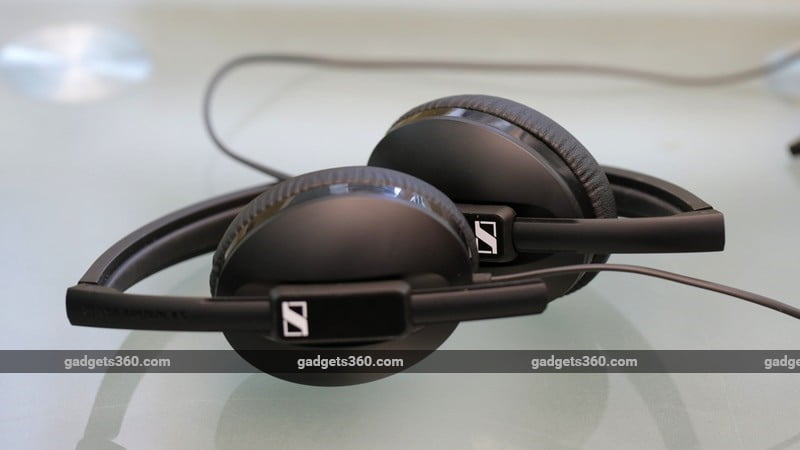 HIGHLIGHTS
The Sennheiser HD 2.10 is priced at Rs. 3,990
The ear cups fold inwards for better portability
Headphones need good amplification to be driven properly
Having recently reviewed the HD 4.30G, it's now time to take a closer look at a more portable option called the HD 2.10. Unlike the HD 4.30G, these headphones aren't designed specifically to be used with smartphones as they lack an in-line controls but they do fold, just like the other HD 2 and HD 4 series headphones that the company launched this year.
In India, the HD 2.10 is still on the expensive side retailing at Rs. 3,990, compared to other countries where it's a lot less. Let's see what you get after paying this premium.
Sennheiser HD 2.10 design and features
The headphones are packaged well and only ship with an instruction leaflet. There's no carry pouch included in the box. It's built entirely of plastic which makes them very light and just like the HD 4.30G, the headphones fold inwards so they're easy to carry about. The oval shaped ear cups have foam padding without any recesses so they sit on your ear. There's leatherette covering for the ear cups along with a circular cut out for a cloth insert to let the sound through. They can also swivel and pivot to a small degree so you can adjust the fit for your head.
However, it took us a while to figure out which one is left and right as the 'L' and 'R' markings are placed at the tip of the headband, inwards, which seems like a poor design choice. A quicker way to know the right way of wearing them is to look at angle of the ear cups, as they should be at a slant, with the top portion tipping towards the back. The height of the headband can be adjusted by sliding the ear cups upwards or downwards. The headband itself has good flex with a rubber lining underneath for your head, although it lacks proper cushioning.
The HD 2.10 has dual-sided 1.4m symmetrical cable that terminates into a standard, L-shaped 3.5mm headphone jack. The flattened cables feel durable and they don't tangle easily. In terms of specifications, Sennheiser doesn't talk about the size of the drivers but we do know it has an Impedance of 26 Ohms and frequency response of 18Hz to 18,000Hz. The Impedance rating is a bit on the higher side (compared to 18 Ohms on the HD 4.30G), which might prove to be challenging for portable devices to drive these headphones properly.
Sennheiser HD 2.10 performance
The HD 2.10s cling snugly to your ear and don't move about too much even when you're on the run. We also didn't encounter any major fatigue while wearing them for hours on end. They manage to cut out some ambient noise but not so much which is both a good and bad thing. The good part is that you don't have to take your headphones off to know what's happening around you which is useful when commuting, but on the flip side, the volume needs to be boosted quite a bit in order to drown out the outside noise. Thankfully, the Sennheiser HD 2.10 doesn't leak too much sound.
We tested the headphones on the HTC 10 and the Asus Xonar U7 DAC connected to a PC. We also used the headphones with other devices like an iPad and the iPhone 7. Focus tracks included Fast Car (feat. Dakota) by Jonas Blue, In the Blood by John Mayer, and Comfortably Numb by Pink Floyd.
When using a smartphone, the HD 2.10s sound very flat with emphasis on mostly the treble, with weak mid-range and mostly non-existent bass. The volume also had to be raised quite a bit for the audio to be clearly audible over ambient noise, which just makes them sound even brighter. With HTC's BoomSound turned on, volume levels were a lot better with a warmer tone to the sound. Bass improves a bit not by much however, the mid-range and higher frequencies tend to normalise thereby diluting the otherwise flat sonic signature of the headphones. We had a similar experience on an iPhone 7 too. Essentially, if you're smartphone doesn't have a good headphone DAC then the HD 2.10s won't sound very good.
When used with a DAC, the headphones perform a lot better with nicely detailed highs and a smooth mid-range, however it still struggles with lower frequencies without an equaliser to help out. Vocal heavy tracks like John Mayer's In the Blood really shine. We like that headphones don't colour the sound too much so low bi-rate audio files sound quite bad, despite the amplification while properly amplified FLAC files sound very good. The HD 2.10s aren't really designed to deliver deep bass as despite our efforts, we weren't able to get them to perform to our tastes.
Verdict
The Sennheiser HD 2.10 costs Rs. 3,990, which is a lot of money considering you can fetch the much better Denon AH-D510R or even the Audio Technica ATH-M30X at a similar price. The trouble with the HD 2.10 is that they need good amplification in order to sound balanced, else be prepared for a very flat sonic signature. They also fail to produce rich bass no matter the source material or amplification, which could be down to the drivers more than anything else. Also, we would have liked to see a carry pouch in the bundle considering the headphones' theme. The Sennheiser HD 2.10 comes with two years of warranty.
Overall, given the headphones build and performance, it would have made sense if it was priced closer to Rs. 2,000, but at its current price, it's a bit too expensive to consider.
Price (MRP): Rs. 3,990
Pros
Foldable design
Comfortable for extended use
Sound isn't too coloured
​
Cons
Requires good amplification to sound good
No carry pouch bundled
Cannot deliver deep bass
Expensive
Ratings (Out of 5)
Design: 3.5
Performance: 3.5
Value for Money: 2.5
Overall: 3
["Source-ndtv"]