Sanjeev Gupta's Liberty House is touted as possible saviour, but there are doubts as to whether it has resources to buy steelworks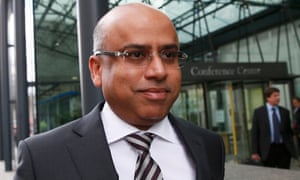 The Indian metals tycoon who has emerged as a potential saviour of Tata's UK steel business has admitted that his company is yet to decide whether to make a bid and needs to "examine very carefully" any proposal.
Doubts are growing as to whether Sanjeev Gupta and Liberty House have the resources to rescue the Port Talbot steelworks and Tata's other sites without substantial financial support from the government.
Gupta made the comments as a thinktank warned that finding any buyer will be "difficult" and it would cost the government £4.6bn in tax revenue and benefits as well as £3bn in reduced household spending if Tata's sites were to close.
The IPPR said that if 40,000 jobs are lost at Tata and the rest of the steel industry as a result of the crisis, this would cost the government £2.2m a day in the first year. The figure includes the loss of income tax and VAT, and additional benefit payments.
Alfie Stirling, a research fellow at IPPR, said: "The effects of plant closures on the UK could be very serious indeed. Our new analysis shows that there is significant fiscal and economic cost to inaction, which the government must take account of when considering its options for Tata Steel."
Analysts in India for investment bank Macquarie warned that it would be difficult to find a buyer and said Tata faces "very high costs" if it mothballs the sites.
In a brutal analysis of the UK steel industry, Rakesh Arora said Port Talbot had no future. "Tata Steel has rightly decided to put a stop to investing in these loss-making assets, as structural issues such as high labour, energy and regulatory costs make them unviable even over the longer term," he said.
"We think the possibility of a new buyer turning these assets around is also slim, as we saw with the Teesside facility [which SSI closed last year] and can be gauged from the prolonged discussion around the sale of its long product business [in Scunthorpe].
"Port Talbot has little future for its blast furnaces and will have to be ultimately shut down. Steelmaking in the UK under the current spread of steel and raw material makes no sense to us at all. 
"The rolling business could have some takers but will require serious concessions from the government, mothballing of lots of facilities and large workforce layoffs. Who is going to assume the restructuring costs? We expect no new buyer will agree to it and the onus will fall either on Tata Steel or the UK government. We believe zero cost is the only best case outcome here for Tata Steel."
Sajid Javid, the business secretary, spent Thursday afternoon in talks with management and workers at the Port Talbot plant, who could try to launch a management buyout if they secure a financial backer.
Javid was updating staff on his meeting with the Tata chairman, Cyrus Mistry, in Mumbai on Wednesday. He confirmed that the sales process for Tata's operations will officially begin by Monday and said other parties apart from Gupta have expressed an interest in buying the steel business.
The other potential bidders are investment company Greybull, German industrial conglomerate ThyssenKrupp and the possible management buyout.
Javid has already held talks with Gupta about his proposals. The Liberty founder told the Guardian that it is still "very early days" in the process and admitted that any deal would be a "big step forward" for his company. Tata Steel employs 15,000 people in the UK, including about 4,000 at Port Talbot.
Filings at Companies House show that Liberty's UK business recorded less than $60m (£43m) of sales in 2014, the most recent accounts, and it has twice been threatened with being struck off the register of UK companies for posting accounts late.
"It is something we will examine very carefully before we actually take it on. It is big step forward for us, there is no denying that," Gupta said. "There is no definite in anything, it is very early days. We have to engage with Tata, we have to then make a proposition. I believe we will make a proposition but that proposition has to be accepted and it depends on who else we are competing against and what ideas they have. This a competitive process and it's not necessarily only our model that works."
Gupta's plan involves converting the blast furnaces at Port Talbot into electric arc furnaces that convert scrap steel into new products. The tycoon has said he will try to avoid redundancies.
However, the government and unions are keen to preserve the blast furnaces at Port Talbot, which can produce more steel than arc furnaces, and the transition from blast to arc would require substantial financial support.
Gupta said the "only differentiating factor" in his potential bid is the need for competitively priced power, with any buyer needing support for Tata's pension liabilities of almost £15bn.
The Liberty managing director said this support could involve backing the Swansea tidal lagoon project, which Gupta part owns. The project has been criticised for being too expensive, but Gupta said the government should allow it to bid for a price support contract in the upcoming contract for difference auction. These auctions involve the government offering subsidies to energy projects that can offer the most capacity at the lowest price.
Gupta said the government is "committed" to finding a solution for Port Talbot. "I mean, we don't yet have a detailed proposition from them, but our feeling is that they are committed to finding a solution, including finding a solution to power," he said.
"I don't know about money because they said they can't do anything which constitutes state aid, so they won't be able to give anybody money per se. But they can solve problems like power or they can provide commercial loans and things, but they can't actually give money, that's against EU regulations."
The Labour MP Stephen Kinnock, whose constituency covers Port Talbot, welcomed Gupta's interest but questioned the credibility of his plan. Kinnock told the BBC's Today programme that the blast furnaces at Port Talbot are technologically advanced and replacing them would lead to job losses.
"The proposals Mr Gupta has outlined are very interesting indeed. I'm going to be meeting with him very soon. But there are quite interesting ideas bubbling under and we need to make sure we don't rush to something because the government is in such a shambles," he said.
[Source:- Gurdian]