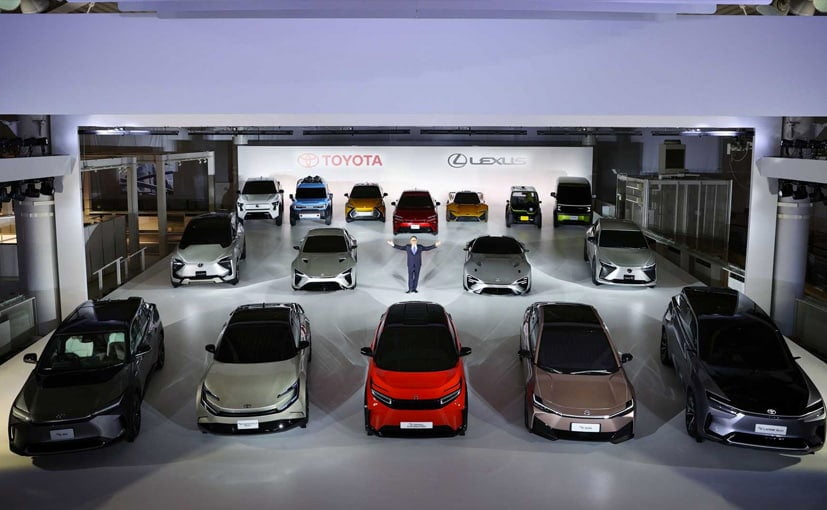 Toyota has unveiled its future range of electric vehicles, and boy, it's going to be a massive portfolio. Toyota and Lexus will together have as many as 15 EVs in the future covering almost every segment. And so, it's a massive line-up will have everything from hatchbacks, sedans and small crossovers to big SUVs, pick-up SUV, lifestyle SUV and even performance electric cars. Of course, the range will also include the already unveiled Toyota bZ4x coupe SUV that's expected to go on sale in 2023.
Well! If you are following the images, by now you must have guessed that these EVs are basically the electric version of the brand's existing model line-up. For instance, electric version of the Toyota FJ Cruiser, Toyota Tundra and even the Toyota RAV4 are quite predictable. As for the Toyota bZ4x, the Japanese brand says that it has a "beautiful silhouette and the design makes you hop inside and take the vehicle out for a spin. It gives us the impression of a future electric C-HR."
The compact red vehicle is an urban crossover featuring an interior that's been designed specifically for European and Japanese markets. Excepts the bZ4x, the cabin of these models aren't revealed yet and neither it's confirmed the timeline of their launches. Then, we can see the bZ Large SUV as well and going by its dimensions, it can easily accommodate three rows. It will be positioned above the bZ4X and will be the fifth model in the company's new EV range.
Then, there's the Lexus RZ as well which will basically be a premium alternative to the Toyota bZ4X. And finally, there's a sports car as well. It's a low-slung coupe with a dramatically sloped roofline and two seat. Toyota says that it is being developed with solid-state batteries in mind and it aims to clock 100 kmph in under 2 second along with providing range for 700 km, courtesy a "secret sauce" that was designed during the development of the already iconic LFA. And finally, the Toyota Tundra based pick-up truck along with the FJ Cruiser based lifestyle SUV also made to the stage. The company also showed the SU EV, the Crossover EV, and a two-seater electric sports car with a removable targa top.
Finally, there are two small EVs as well – the Mid Box and Micro Box, serving as zero-emissions delivery vehicles for city use. Now this huge EV line-up is basically a step in the direction of Toyota's aim to achieve global annual sales of 3.5 million ba
ttery-powered EVs. And to get there, the dynamic duo will introduce 30 electric vehicles by the end of the decade with an investment of $35 billion. Lexus will go fully electric in Europe, the United States, and China by 2030 which is when it is targeting achieving one million EV sales per year. In 2035, Lexus will become a purely electric brand and both companies will achieve carbon neutrality at their factories.
["source=carandbike"]