Nigel Farage unveils party's manifesto for Scottish elections, promising to raise drink-driving limit and provide free town centre parking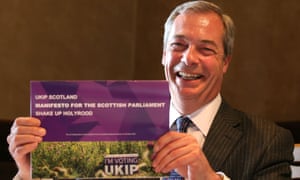 Ukip has launched its Scottish manifesto by pledging to allow smoking in pubs, raise the drink-driving limit, and provide 30 minutes of free parking in all town centres.
The party leader, Nigel Farage, also said the party would introduce an intermediate 30p tax rate for those earning between £45,300 and £55,000.
Farage unveiled Ukip's "Shake Up Holyrood" manifesto – becoming the first party to set out its offer for May's Scottish parliament election – alongside the party'sScotland MEP, David Coburn, in central Edinburgh on Thursday, to the strains of an accordion player.
The party is fielding 26 candidates on the regional lists for the 5 May election.
Farage said he was "pleased to see there wasn't the usual welcome committee" – referring to his notorious visit to Scotland during the independence referendum campaign when he was forced to shelter in a pub to escape angry protesters.
"Perhaps the debate in Scotland has moved to a more mature level," he said, before attacking David Cameron over the use of public funds to distribute pro-EU leaflets to households.
The 32-page manifesto promises to "push every local authority in Scotland" to offer at least 30 minutes of free parking in city and town centres; to return the drink-driving limit in Scotland to 80mg per 100ml of blood, putting it back in line with the rest of the UK; and to re-introduce grammar schools.
Other commitments include: supporting research into GM foods; a guaranteed job in the police or prison service for any Scot who has served in the armed forces for 12 years or more; to repeal the Offensive Behaviour at Football and Threatening Communications (Scotland) Act 2012; and to make it a criminal offence to set up an unauthorised Traveller site.
[Source:- Gurdian]