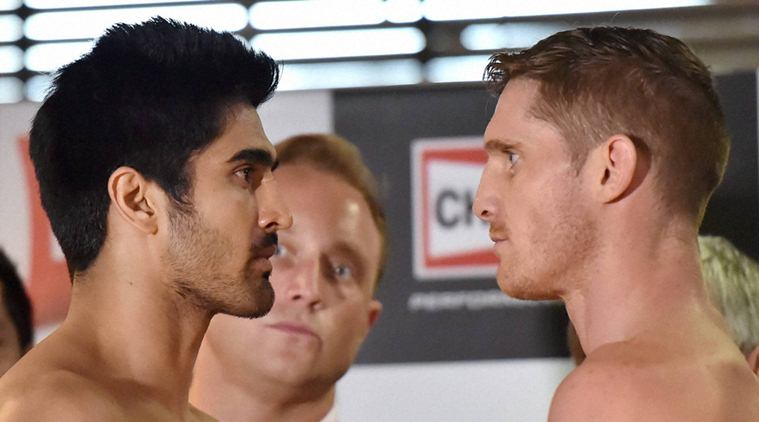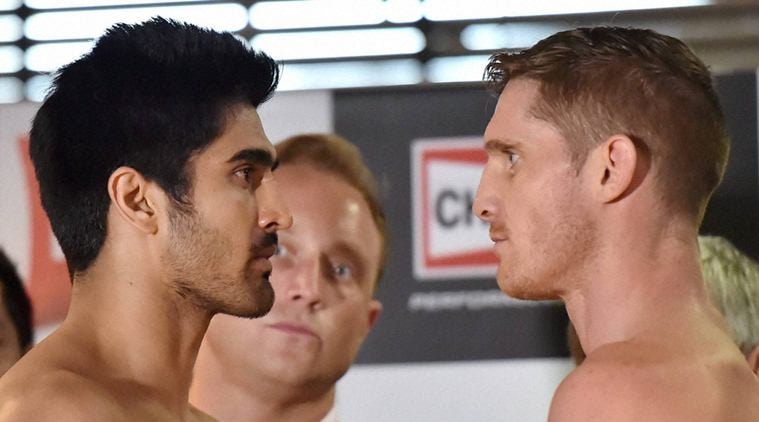 Vijender Singh begins his journey in Pro Boxing in India against Kerry Hope with the WBO Asia Pacific Super Middleweight title on the line. In his first fight in India in six years, Vijender would also seek to keep his winning run in pro boxing going. Catch live updates from Vijender Singh vs Kerry Hope from Thyagraj Stadium in New Delhi.
Vijender Singh vs Kerry Hope Live:
2203 hrs IST: We're go into the first round between Vijender and Hope. 3 minutes for each round and 10 rounds make up this bout
2159 hrs IST: Australian national anthem is played and everyone is up in respect
2158 hrs IST: Vijender Singh gets a loud ovation as his name is announced
2157 hrs IST: 34-year-old Kerry Hope is introduced to the crowd amid mixed response
2154 hrs IST: Lights dim and Vijender Singh in his usual attire of the tricoloured robe walks down the ramp!
2153 hrs IST: Kerry Hope in white jacket and shorts is in the arena!
2129 hrs IST: And we're ready for the big event! Vijender Singh vs Kerry Hope is up next!
2122 hrs IST: Siddharth Verma beats Dilbagh Thakran 80-73, 79-73, 77-75
2121 hrs IST: We see Rahul Gandhi in the front row with Rajiv Shukla
2057 hrs IST: Dilbagh is sufferind as we go into the third round. Doesn't look comfortable at all.
2046 hrs IST: Dilbagh Thakran (red corner) against Siddharth Verma (blue corner)
2022 hrs IST: Suresh Raina: Good to see the energy and the support. Everyone's done an amazing job. This atmosphere is like playing in the World Cup.
2020 hrs IST: Mary Kom: "I would like to thank everyone for coming and it's become popular thanks to all of you. I would like to wish all our boxers going to Rio all the luck. I'm so sorry I couldn't qualify it myself."
2013 hrs IST: Sanjeev Singh Sahota wins 40-37, 40-36, 40-37 to beat Vikas Lohan
2012 hrs IST: Sanjeev had the upper hand after the two rounds but now, after four rounds, the contest looks close. He raises his hand in celebration but the result is awaited
2004 hrs IST: Two rounds gone and UK based Sanjeev Sahota has the upper hand. Vikas looks rather depleted
Up next is Vikas Lohan vs Sanjeev Sahota
1944 hrs IST: And that's the end of the final round. The Thai boxer looks confident. Kuldeep Dhanda beats Vichayan Khamon 60-52, 60-55, 60-53 in a convincing win
1940 hrs IST: Kuldeep has the lead on points over the Thai boxer and we're two minutes away from the decision. Into the last round!
1933 hrs IST: Kuldeep has a fairly decent fourth round but still too close to make a call on who would take this.
1929 hrs IST: Big jabs by Khamon to end the third round. That was a good ending to the third round
1924 hrs IST: End of the second round and still little to separate the two even though the Thai boxer gestured to raise his arms in celebration
1916 hrs IST: Khamon hits the mat at the end of the first round! Pretty even first round so far
1910 hrs IST: We start off with Vichayan Khamon of Thailand vs Kuldeep Dhanda of India
1900 hrs IST: We're ready for the five match fight card at the Thyagraj Stadium. As always, the big fight will come last.
BUILD UP:
No real Hope for a big upset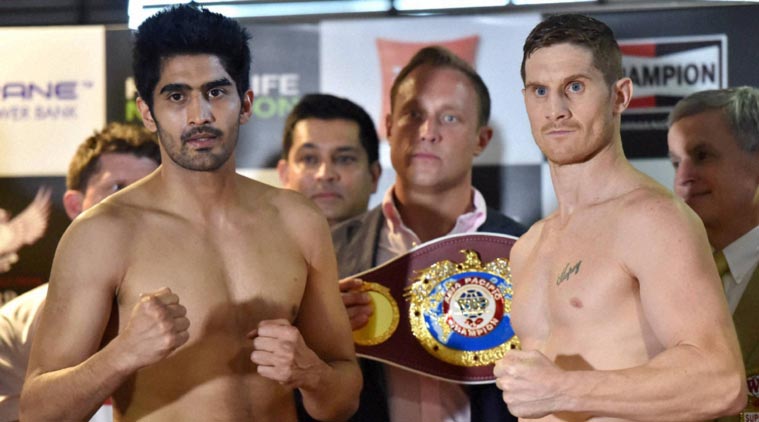 Vijender Singh and Kerry Hope during the weigh-in on the eve of their WBO Asia Pacific Super Middleweight bout on Saturday. (Source: PTI)
The bout — which the organisers have sold as the biggest pro boxing event to be held in India — is one in which Vijender has a real fight on his hands, his promoters insist.
In Kerry Hope's corner, a man who has been waiting for Vijender Singh to show up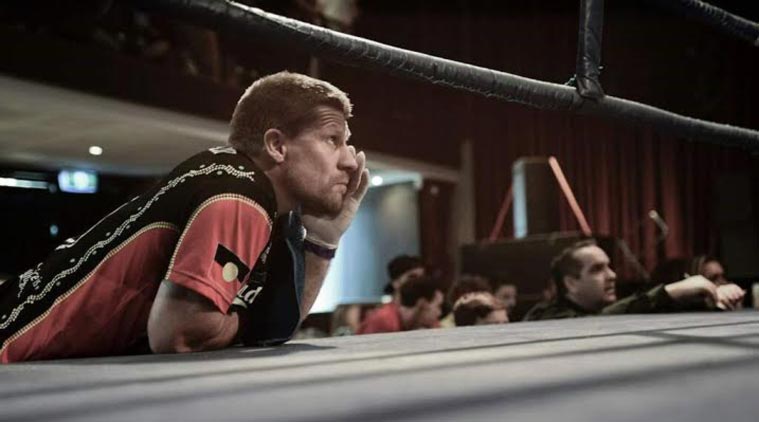 Gareth Williams believes there are areas of Vijender Singh's game that make him vulnerable.
What makes Vijender Singh's job harder, feels Williams, is that he has had to unlearn nearly two decades of amateur boxing in a relatively short time.
Vijender Singh faces tricky test against southpaw Kerry Hope
Vijender Singh's fight against Kerry Hope for the WBO Asia Pacific Super middleweight belt on Saturday is going to be his toughest one so far. (Source: Twitter)
Vijender Singh has to let Kerry Hope reach out for him while leaving himself open for counters and use Hope's own momentum against him.
[source;indianexpress]