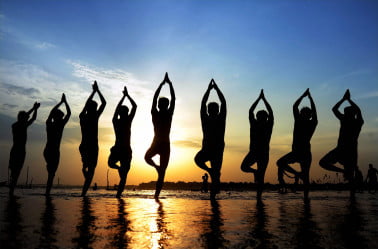 As the third International Yoga Day celebrations kicked off in Lucknow today with Prime Minister Narendra Modi asking every citizen to make Yoga a part of their lives, the real estate fraternity, currently trying to come to terms with the new regulatory environment, said all challenges such as GST or RERA can be overcome through Yoga.
"CREDAI congratulates all of you on the occasion of International Yoga Day. I recommend Yoga to everybody. If you want to convert your difficulty to opportunity, Yoga is the only way to overcome that difficulty – whether it is in business, society or in personal life. If you want to change your outlook towards life, without any expense, Yoga is the only way – whether it is RERA, GST etc," said Jaxay Shah, president-national, CREDAI.
Parveen Jain, President of National Real Estate Development Council (NAREDCO) – the apex body of the real estate sector, also said that to remain mentally and physically fit – yoga is very essential. Everybody should perform Yoga both for physical fitness and mental peace.
As many as 200 employees of Gaursons India Pvt Ltd participated in the Yoga Day celebrations held at the company's office in Ghaziabad, Uttar Pradesh this morning. "This is the third year in a row that we are celebrating International Yoga Day. The idea is to keep our employees mentally and physically fit," said a company spokesperson.
Prime Minister Modi also said in Lucknow that "it is not important to perform yoga for 24 hours. 50 or 60 minutes (is fine) because it lends harmony to the body, mind and intellect. If 1.25 billion Indians and people around the world can attain this state of well-being, then humankind can also tide over problems born out of human thoughts."
["Source-moneycontrol"]