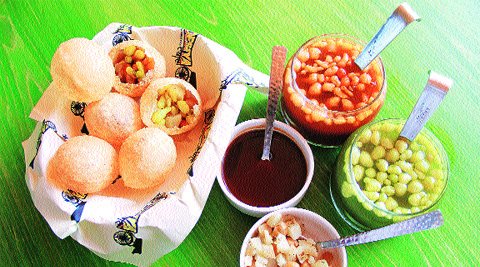 An overspill of patriotism led us to Desiya Cafe, recently opened at the end of the lane at Hauz Khas Village. The moment we walked in, what came across were the interiors that were very Indian hipster, a decorative style encompassing Hinglish paraphrased in pop-coloured graffiti, vintage posters and signs, desi bric-a-brac, lanterns and upturned chai glasses serving as lighting.
The menu is a cross-country culinary map, picking up street foods from various states and cities — from the kebabs and chaats so beloved of Punjab and Dilli to Bombay's bread-based fancies to the roadside curries of Kerala's toddy shops. The balcony, nicely accoutered with stools that come with attached cycle pedals, offers a stellar view of the Hauz Khas complex, with only the cluttered spaghetti of municipal wiring blocking the skyline. The music is pure Bollywood, a medley of everything from old-school Badan pe sitare to the raunchy remixwallas churning up a storm with Babydoll.
We begin with the Golgappa Platter, a dish we normally avoid if in salubrious settings, and we're glad we did. Despite the air-conditioned seating and the mineral water used, the golgappas with their traditional trappings of meetha and khatta paani, saunth and stuffing, take you out to the street, in front of a bulb-illuminated thela with a pattal possessively clutched in one hand.
Next up is the Classic Tandoori Chicken (marinated for 24 hours) and the intriguingly named Night Watchman Ka Chicken Bun, the latter of a Maharashtran provenance. The tandoori chicken is textbook, every steaming morsel more melting than a YRF climax, infused with the smoky flavour of the tandoor it's cooked in, accompanied by a sprightly hari chatni (at Desiya it's definitely chatni, not chutney) and spicy Pyaaz Ka Lachcha. The last one could be a meal in itself, if we weren't bound by duty. Speaking of duty, the Watchman Ka Bun soon clocks in: a torpedo-shaped pao piled high with sautéed masaledar chicken, whole cardamoms, and some more chatni. With bread dripping with buttery goodness and brazenly in-your-face (or in-your-mouth) flavoured toppings, this one is guaranteed to make even a night at the museum palatable.
For the mains we keep things dum-daar (as mentioned in the menu) with the Mutton Dum Biryani. Served demurely in a clay pot, there's nothing retiring about the rice dish, fragrant with spices and the meat falling of the bones easier than the village idiot falls off his Hero cycle.
This feeling of domestic bliss is carried forward by dessert: gulab jamun. Coming two in a serving, one light coloured the other dark, and dripping with golden chashni, all that's missing is a Made in India chhap.
Meal for two: Rs. 700 (including taxes, excluding alcohol)
Address: 50E, Ground Floor, Hauz Khas Village. 26566301
["source-timesofindia"]