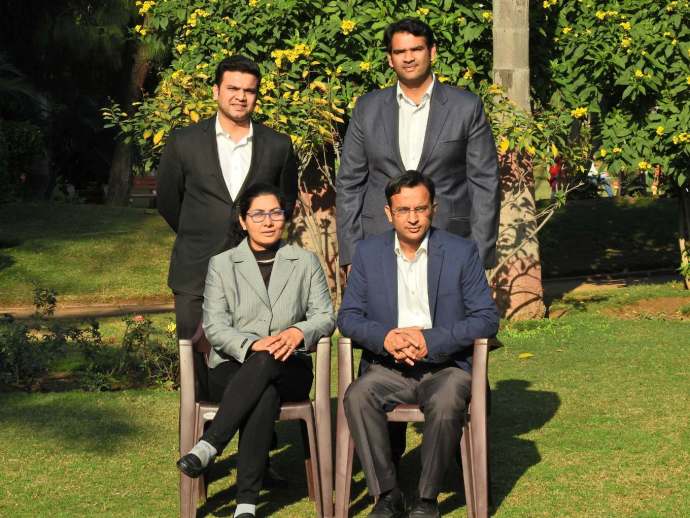 Gurugram-headquartered healthy food supplier NutriTap has raised $282K (INR 2 Cr) in a seed funding round, founder and CEO Rajesh Kumar told Inc42.
The funding round was led by angel investor Apoorva Patni, Sameer Khetarpal (director Category, Amazon) and senior members of McKinsey & Co, Google etc.
Founded in 2017 by Kumar and Medha Mishra, NutriTap offers nutritious food products and beverages on tap through state of the art automated retail machines. The company has begun its operations with a focus on corporates and has already installed 50 vending machines across 34 offices/institutions in Delhi-NCR and Mumbai.
The company will soon start its operations in Bengaluru as well and is in under discussions with its present clients as well as other newer ones. A 10-member team is looking to use the fresh seed funds to scale up in Mumbai and Bengaluru while developing its tech-integrated platform.
NutriTap: A Shift Towards Better Corporate Lifestyle
Kumar told Inc42 that in his own experience, he has seen people, especially mobile/working population, struggle to eat right once they are out of the home, which is for 70-80% of their day time. It's primarily driven by lack of time and availability of choices, he explains.
This is the problem Kumar with his NutriTap team is looking to solve. For this, the company has created an integrated tech solution-app/technology platform which makes people aware of nutrition value they get from the food they choose to eat and IoT enabled food kiosks at the offices/public places from where they can pick the right food.
"We are providing a platform to organic/health food/wellness partners, many of those lesser known, through our food kiosks and also enable them to raise awareness about health/their products through kiosk integrated digital media. It's a win-win proposition for both our customers and our partners," Kumar says.
However, after floating the idea, one of the biggest challenges for the team was to find the right set of healthy products which fit into consumer profile and create awareness about those. Kumar explains, "The different corporates/institutions have different DNA depending upon location, the profile of the people, perks they get etc."
---
Related Article: Funding Galore: Startup Fundings Of The Week [31 October – 5 November]
---
The company took its time in examining the brands, their products and develop its portfolio of partners and set the supply chain right.
Challenging The Stalls In/Outside Offices
As NutriTap looks to expand its presence to top tier cities such as Hyderabad, Chennai and Calcutta as well, the company is looking to set its demand and supply chain straight. At present, the company is in works to manufacture its own vending machines in Coimbatore and may soon roll it out in the next two months.
To set its demand side, the company offers products like sandwich, flax seeds, healthy juices, etc across more than 20 product categories, with over 70 product varieties and 100s' of flavours across the range of INR 20 – INR 150.
On the supply side, the company has a set of runners who maintain the IoT vending machine remotely as they use a dashboard to keep a check on the products and their requirements. Kumar told Inc42 that one runner can usually handle eight NutriTap machines.
The company is looking to close the year with $1 Mn run rate and with that, is also running few pilots with bus chains, hospitals etc to further enhance its growth.
However, one of the biggest challenges for the company is to make employees choose healthy offerings over the stalls which offer cheap tea, samosas, bread pakoras as alternatives. For this, Kumar believes, HR and admin of the companies can come together to develop nutritious food choices. NutriTap also leads educational drives with the support of its nutritionists to increase the awareness of the use of healthy food products.
Healthy India: The Need Of The Hour?
As the increasing modern-day working population becomes health conscious and demands for Gluten-free, fat-free, carb-free, and organic products, the statistics show that more than half of urban population today suffers from lifestyle diseases in India and this proportion is rising rapidly.
Diet and lifestyle are major factors thought to influence susceptibility to many diseases. Some of the common diseases encountered because of occupational lifestyle are Alzheimer's disease, arteriosclerosis, cancer, chronic liver disease/cirrhosis, chronic obstructive pulmonary disease (COPD), diabetes, hypertension, heart disease, nephritis/CRF, and stroke.
According to the National Family Health Survey (NFHS) 2015-16, 11% of women (1 in 10) and 15% of men (1 in 7) of age 15-49 are hypertensive.
Kumar says, "We see tremendous opportunity because of captive consumers, better user experience and almost nil cash burn. India has around 7,000 large corporates (with over 70K offices), more than 60K colleges and over 5,000 fitness centres."
According to a report by business consultancy firm RNCOS titled "Indian Snacks Market Forecast to 2023," healthy snacks segment holds very small share in the total snacks market, however, this is set to change rapidly. Along the same lines, 'Beverages: Indian Scenario' report, says that the health beverages market currently stands at $300 Mn and is the fastest growing market among beverages.
To understand how big the market is and who is the health-conscious eater, a health tracking app HealthifyMe collated data for 2017 from nearly 4 Mn users over 200 towns and cities to find that Kolkata eats the healthiest followed by Pune and New Delhi.
The market of healthy products is wide and includes large chains like Cure.Fit's Eat.Fit which offers meals with a detailed analysis of calories, fat, carbs, proteins etc. We also have beverage products like &Me, SapFresh etc which use superfoods and healthy drinks to help India's health.
According to a TechSci Research report "India Organic Food Market Forecast and Opportunities, 2020", organic food market in India is projected to grow at a  CAGR of over 25% between 2015-20. Growing health consciousness is the key factor surging the demand for organic food products in India.
However, one edge that NutriTap has found in its business is the vending machine to reach to the health-conscious Indians. Kumar said, "US has around 7 Mn F&B vending machines, 2.5 Mn machines in Japan and 250K vending machines in China as compared to around 2,000 vending machines in India. Literally, we have miles to go."
["source=inc42"]