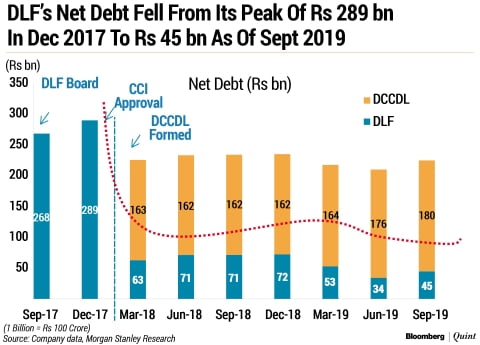 Real estate firm DLF Ltd. plans to focus on its rental arm and monetise its Rs 10,000-crore finished inventory to beat the subdued demand in the country's real estate market.
"Today, the DLF model has two halves to it—one is the rental vertical DLF Cyber City Developers Ltd. and other is the residential side," Chief Financial Officer Ashok Tyagi told BloombergQuint in an interview. "We expect to end the year with a rental run rate of Rs 3,600 crore by March-end."
DLF Cyber City, which has 32-million square feet of leased area, is a joint venture of Singapore's sovereign fund GIC Pte Ltd. (33.34 percent stake) and the Gurugram-based developer (66.66 percent).
DLF Cyber City plans to kick off the next phase of constructions in Gurugram, Chennai and Hyderabad. These new projects carry a Rs 9,500-crore rental potential over the next three to four years, according to a Morgan Stanley report.
Debt—'No Longer A Problem'
DLF's current debt-to-equity ratio stands at 0.12:1 times, Tyagi said, adding the company will continue to chip away at the debt burden in the coming years. "Frankly, the debt is not something over I, the analysts or the industry should lose sleep over. I think that chapter is over and done away with," he said.
According to the Morgan Stanley report, the company's overall debt reduced 15 percent over the last two years to Rs 22,484 crore. Its gross debt stands at around Rs 7,050 crore with more than 50 percent having a repayment schedule beyond three years. Also, the net debt of its joint venture, DLF Cyber City, is expected to be in the range of Rs 17,000-18,000 crore for next three fiscals ending 2022-23, the report said.
Downside Risks?
Tyagi said the issue of stressed projects in the National Capital Region is crucial for the generation of new demand and improving customer sentiments. The government's move to create an alternative investment fund is seen as reviving demand in the region, he said.
Last month, the Union Cabinet approved the Rs 25,000-crore scheme to provide funding relief to stalled housing projects across the country. The government plans to establish a special window to provide priority debt financing for the completion of stalled housing projects in the affordable and middle-income segments.
["source=bloombergquint"]