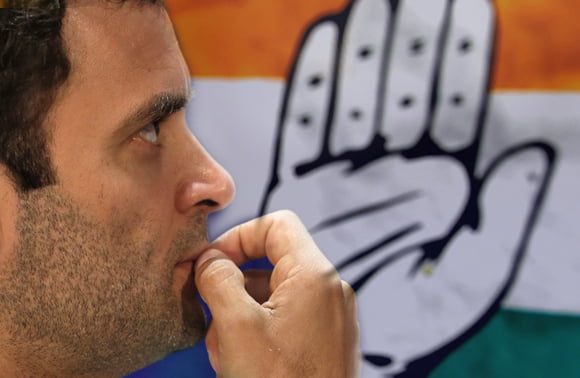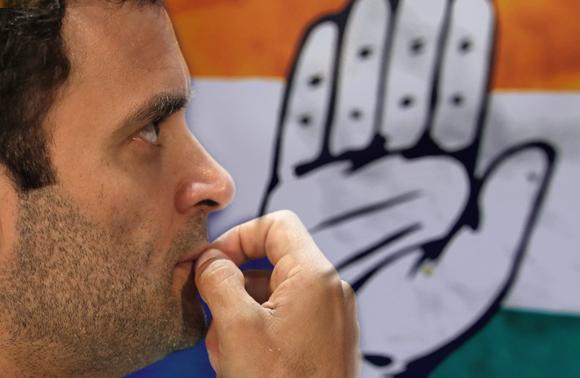 Congress Vice-President Rahul Gandhi made significant gains in a couple of real estate transactions between 2005 and 2010.
The member of Parliament purchased two shops in MGF Metropolitan mall in Delhi's Saket area during the tenure of the first United Progressive Alliance government and sold it during the term of UPA-II at thrice the cost price, records reviewed by Business Standard showed.
The shops became a subject of a political controversy last week after Bharatiya Janata Party member of Parliament Kirit Somaiya linked these to the alleged irregularities in AgustaWestland helicopter deals.
Gandhi bought these shops for Rs 1.47 crore (Rs 14.7 million) in December 2005 from an Emaar MGF group firm and sold these in February 2010 for Rs 5.6 crore (Rs 56 million).
An arm of Mumbai-based Welspun group bought the shops helping Gandhi realise a gain of Rs 4.13 crore (Rs 41.3 million) or 280 per cent over four years and two months.
The returns were impressive given that the property market took a steep downturn after peaking around mid-2008.
An email seeking comments sent to Gandhi's office last week and subsequent reminders did not elicit any response.
In a statement last week, real estate firm Emaar MGF had said its group company had "sold two shops in Metropolitan Saket Mall to Rahul Gandhi on December 6, 2005" at prevailing market rates and dismissed Somaiya's allegations as false and baseless.
The larger of the two shops was about 1,000 sq ft, while the other was about half its size. The Emaar group firm sold these at the rate of Rs 9,750 per square feet (psf), costing a little over Rs 1.47 crore (Rs 14.7 million).
The transaction was commercial and commensurate with the market rate of the day, a fact evident from records of other transactions during same period, Emaar said, adding "this entire transaction is transparent and has been well disclosed publicly in the past".
According to a detailed list of shops sold between 2003 and 2005 released by Emaar, the price paid by Gandhi was the highest among 67 such deals. Rates ranged from Rs 3,000 to Rs 9,750 psf.
"The shops were never leased nor bought back by the company from Rahul Gandhi at any time.
Further, according to the records, the shops were further sold to Worli Realty Private Limited on February 4, 2010.
Worli Realty Private Limited is not related to any of our companies and/or promoters," Emaar MGF added said in its statement.
Business Standard reviewed the balance sheet and other documents of Worli Realty filed with the Ministry of Corporate Affairs.
The records showed that the company belonged to Mumbai-based Welspun group, originally known for its towels and bedsheets, but has since diversified into renewable energy and real estate.
Most of its shares were owned by Welspun Infrastructure & Developers, which was recently amalgamated into Welspun Fintrade, MCA filings showed.
The balance sheet showed that the company incorporated in January 2008 did not own any fixed asset in the first two years.
The balance sheet for financial year ended March 2010 showed fixed assets of Rs 5.6 crore (Rs 56 million) for the first time.
An annexure to the balance sheet containing "schedule of fixed assets" described these as 'buildings (leasehold shops)'.
After depreciation, net fixed assets were valued at Rs 5.59 crore (Rs 55.9 million).
According to FY14 balance sheet, the latest available, the shops were valued at Rs 5.22 crore (Rs 52.2 million), net of depreciation.
In response to an email questionnaire sent to a Welspun group spokesperson, a reply from the official id of Worli Realty said, "Worli Realty Private Ltd's main object clause includes purchase, sell, develop, take on lease or hire or otherwise acquire any real estate including lands, buildings, factories, houses, shops.
Accordingly, the company is engaged in real estate business.
In FY10, the company purchased two shops in the ordinary course of its business at the total cost of Rs 560.73 lakh (Rs 5.6 million) inclusive of stamp duty and registration charges.
This purchase was done in compliance with all applicable laws, rules and regulations."
At the sale price of Rs 5.6 crore (Rs 56 million), the properties, which totalled 1,510 sq ft fetched rates of about Rs 37,000 psf.
Real estate prices peaked in mid-2008 and have been under pressure through the global financial crisis that followed collapse of Lehman Brothers in September 2008.
"Average capital values in the Indian commercial real estate sector are still 25 per cent lower than the most recent peaks seen in mid-2008," according to a 2015 report by property consultant Jones Lang LaSalle.
Six years later, on Tuesday, property website 99acres.com showed two shops available fo
A third shop, which was relatively small at an area of 170 sq ft, was listed at a price of Rs 50,000 psf.
A Delhi-based businessman, who deals in high-end property, said: "Commercial space in the mall were quoting at around Rs 20,000 psf in 2010; now these are around Rs 40,000."
Business Standard looked at some reports on the commercial property from that time.
Most of these pointed to the rates suggested by this businessman or sometimes even lesser.
A Business Today report said the average commercial property rates in Delhi National Capital Region was Rs 10,000 psf.
Saket micro district comes behind Connaught Place and Nehru Place in the pecking order.
According to a report by CB Richard Ellis, capital values in the Saket micro market started falling from the Rs 20,000-25,000 range in the third quarter of 2008 to around Rs 14,000 psf in the second quarter of 2009.
It continued to be at that level till the second quarter of 2010, said the report.
The report also put the rental values in Saket at Rs 133 psf per month.
This works out to annual rental earnings of around Rs 1,600 psf.
Commercial rental yields in Delhi have been 8-11 per cent.
That puts the capital value of properties in the region even at the upper end at Rs 20,000 psf.
At this price, the shops sold by Gandhi would have fetched around Rs 3 crore (Rs 30 million).
[SOURCE;REDIFF.COM]