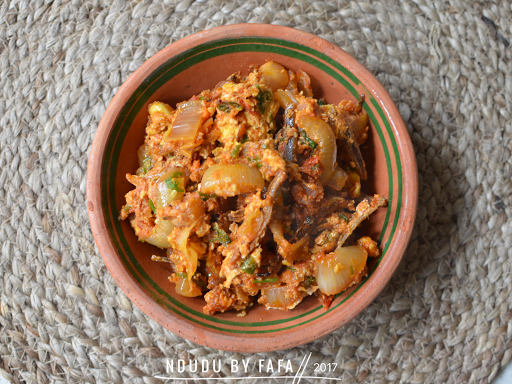 Ingredients
100g of dried headless Anchovies (Abobi or Keta School boys)
300g of blended fresh Tomatoes
20g of Tomato purée or paste
3 large free range Eggs
2 large peeled and sliced chunky white Onions
8 Kpakpo shito or 1 Habanero chilli
2 tablespoonful of a Ginger, Onion and Aniseed (Sukoni) blend
2 tablespoonful of Olive oil
15g of chopped Coriander for garnishing
2 finely diced Green chillies for garnishing
Method
Soak the Anchovies in water for about 2 minutes and reserve the stock by freezing it for when a recipe requires it.
Place a frying pan on a medium heat and dry fry the soaked Anchovies for about 2 minutes whilst tossing them. Add the oil and half the sliced chunky Onions.
Fry for 3 minutes and add the Ginger blend. Fry for another 3 minutes. Mix 30ml of water with your Tomato purée or paste till well combined and add it to the Anchovies mix.
Continue to fry for 4 minutes and add the blended Tomatoes.
Fry the mixture for 12 minutes ensuring you stir to avoid the bottom catching the pan.
Taste for salt and add not more than half a teaspoon to the stew.
Crack your eggs into the stew and reduce the heat to the lowest setting.
Cover the frying pan with its lid to allow the eggs to steam.
Cook this for 5 minutes and stir everything together.
Sprinkle with chopped Coriander, Green chillies and serve with Akple, steamed Rice, boiled Yam or Plantain.
["source=pulse"]