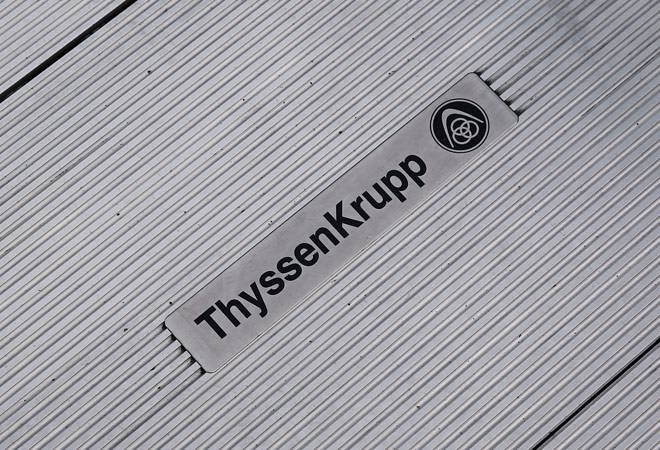 Germany's biggest steelmaker Thyssenkrupp wants to play a role in any consolidation of the European steel market, which is afflicted by excess production capacity and a weak demand outlook, its chief executive said.
"We have clearly said that we consider a consolidation as a sensible and proper step towards a solution. And if such solutions are possible we will play an active role from a position of strength," Heinrich Hiesinger told reporters.
"Whether, when and with whom consolidation may take place is still completely unclear today," he said in remarks released on Friday.
Tata Steel's move to sell its British operations has increased expectations that a deadlock among European steelmakers, each unwilling to make the first move, could finally be broken.
Thyssenkrupp shares were up 1.2 per cent by 0912 GMT at the top of the German blue-chip index. ArcelorMittal, the world's biggest steelmaker, rose 0.4 per cent, while German steelmaker Salzgitter fell 0.4 per cent.
"It's all a long way off. Until now there's evidently nothing concrete. But they have to talk to one another, costs have to come down," said a Frankfurt-based trader.
Hiesinger said: "Demand is indeed stable today but it will grow only immaterially in the future. The issue of overcapacity is being clearly aggravated by high imports from China and also to an extent from Russia."
Sources have told Reuters that talks are taking place between all Europe's steelmakers but no deal is imminent. Labour representatives, who have a right to be consulted on any concrete plan, have not been informed.
Hiesinger said he did not believe financially stretched steelmakers would buy one another, but would rather merge their operations with each continuing to own a stake.
Salzgitter, asked for a comment, referred to statements made by Chief Executive Heinz Joerg Fuhrmann in a Reuters interview earlier this year, when he ruled out taking part in any consolidation.
[Source:- Businesstoday]