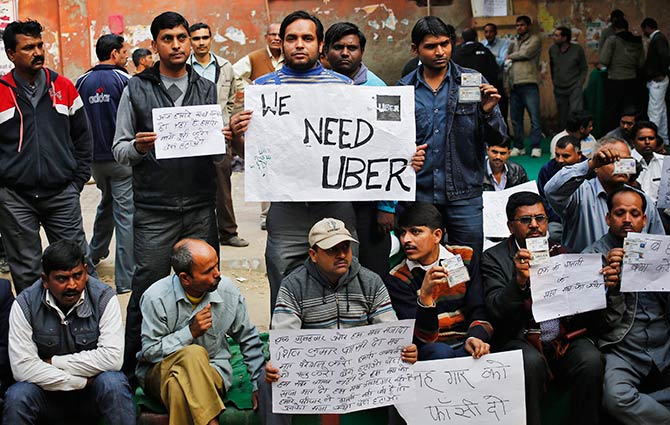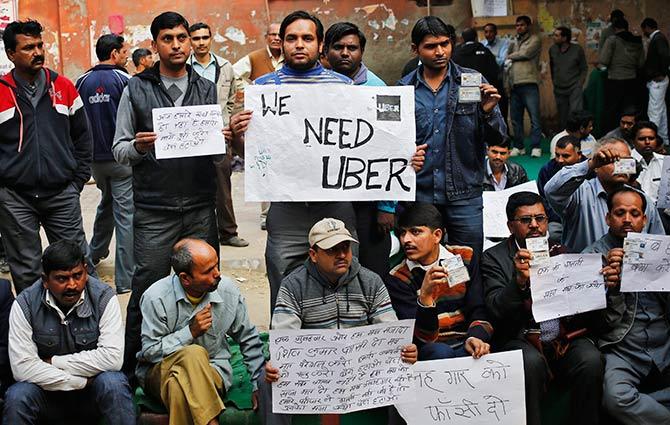 How could there be a revival of the entirely forgettable Hindi movie song of the mid-nineties, Ole Ole? What was the lifespan of these meaningless songs of the "beat and catchy tune" type that had replaced the ones with the unforgettable lyrics and melodies of the 'sixties and 'seventies? Why were people at the next table in the restaurant or the next cluster at the party going on and on about Ole?
I was soon disabused. The latest argumentative rage and most dependable conversation starter was an animated exchange over which was the smarter of the two smartphone-driven taxi hire services, Ola or Uber? Their fans are not willing to come to blows as would those waving the flag for East Bengal or Mohun Bagan but passion is there alright and the debate is following in the footsteps of the one over Flipkart versus Amazon.
The first to come has the first-mover advantage. And if this one is local, then it gets an additional leg-up from those who are fashionably patriotic in today's atmosphere. I remember, my children and I were completely bowled over by the way Flipkart changed the experience of buying books and we became its near fanatical supporters. But over time, realistically, we have realised that Amazon more often gives you the most sensible deal and smooth delivery to boot.
The battle between Ola and Uber is far from settled right now and Ola appears to have the advantage, depending on which city you are in. In Kolkata we found Uber cars cleaner, its drivers smarter and most importantly, the fares invariably reasonable. But lately, it has become increasingly difficult to get an Uber cab in peak hours, forcing people to turn to Ola which has then gone on to charge a bomb. This fits into the theory that during peak hours or in the dead of night, the price-driven service that earns more for its franchisee drivers will be able to ensure supply.
In Bengaluru, such is the spending power and demand for taxis that both Uber and Ola services are terrible (too many greenhorn drivers) and of course when you have been able to get a cab at last after an interminable wait then it is often Ola which charges an exorbitant fare. In Delhi it is again Uber which is the better and more reasonably priced service and its supply is better than elsewhere. But again when there is no cab to be had for love or money, Ola usually wins and has you part with your money handsomely.
There is a surge of emotion among regulators against surge pricing and if things go the way they are doing, then Ola's business model, based on what the market for the moment can pay, will lose out. Should surge pricing be banned across the country, Uber may have the last laugh. But then we may also find that the customer will not quickly get a taxi when and where he needs it the most.
Then we may find that this mahayudh of today's Mahabharata will also have no clear winner or loser and any notional victory will be pyrrhic. But the whole point about all this is not who eventually wins or loses but how, in just a few years, technology has so changed our lives that we have new heroes and demons to fight over.
Technology can script a new epic in which everyone is a winner only if everyone gets a chance to join in. Globally Uber has done mankind an enormous service by establishing the proof of concept for the idea of a wireless-based, GPS-driven taxi hire service. On one hand it has meant you and I being able to get a taxi when and where we need it the most.
On the other, it has meant enormous savings and higher net takings for taxi drivers, who have wasted so much by way of foregone earnings by failing to be where a passenger is standing by the kerb futilely looking for a taxi. The big need for tomorrow is for one platform matching all taxis and all intending passengers in a city. It is then up to different taxi services to suitably differentiate themselves by using their ingenuity.
Right now the incumbent players are using their political clout to put up all kinds of regulatory hurdles in the way of the challengers. The latest is the transport authority for London making it obligatory for all taxi drivers, black cab-wallahs and also others, to be able to not just understand and speak English well but also read and write it too. This is a clear way of excluding drivers of immigrant stock who make up a big slice of those who work with Uber. But as sure as a new day dawns, the night of market restrictions will pass.
The great thing then will be that there will be little need to own a car as you will be able to get a cab anytime anywhere by using your phone. This will hugely improve the ridership of all four-wheelers, put a check on the number of cars on city roads and sharply reduce automobile pollution, thereby improving the level of public health. As mentioned earlier, this will be the end of a truly modern mahayudh in which everybody will be a winner.
[source;rediff.com]